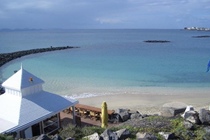 All Inclusive Holidays
While at first glance all inclusive holidays may appear to be an expensive option, when you consider the amount of spending money that is allocated for meals, snacks and drinks, it most often makes sound economic sense. This is particularly true for families. Parents who are continually badgered for the next drink or ice cream can relax in the knowledge that it isn't costing them an extra penny. All inclusive holidays provide all sustenance, including local alcoholic beverages, and they also provide much of the children's entertainment and sporting activities. At Travel Bubble we have a range of all inclusive holidays, including late deals which offer great value.
Cheap All Inclusive Holidays
Whether you wish to holiday in Europe or venture further afield, we can supply all inclusive holidays to suit your requirements. As there are no hidden extras it is easy to stay within the holiday budget when you book a Travel Bubble all inclusive holiday. We have cheap all inclusive holidays for both summer and winter breaks, and cater for both ends of the market from luxury to more affordable all inclusive holidays. For further information and to view Travel Bubble's best all inclusive holiday deals, please use the search facility or call 0191 2446163.